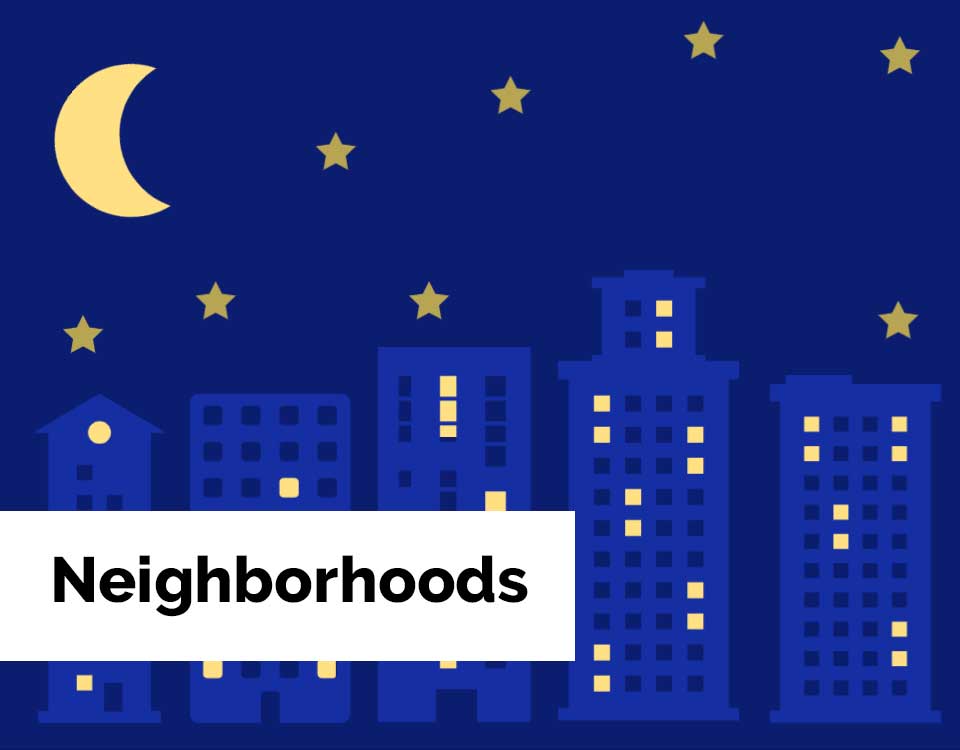 03/06/2020
---
You have arranged the dates and booked your flight for your city trip to Athens? Ωραία - Nice! Now the big issue is: where should you stay? Athens is a
big city
with 7 municipal communities divided into 38 neighborhoods, so you have lots of choices. But no worries, we narrowed them down for you. In this blog post we share our
8 favorite areas
in and around Athens, so you can pick your place to stay!
---
QUICK ANSWERS
---
• Where should a first-time visitor stay in Athens?
We would recommend a place in downtown Athens. This way you are close to the highlights, and there are plenty of bars and restaurants to choose from. Go for a hotel in Athens city center in Plaka, Koukaki, Syntagma, or Monastiraki.
---
• Where should I stay in Athens to walk everywhere?
The old city center is compact with a maximum of 30-45-minute walk to the Acropolis. In case you want to reduce the walking as much as possible, choose accommodation in Plaka or Syntagma.
---
• What are the best neighborhoods in Athens for families?
A quiet and green option in downtown Athens is Thissio. In case you prefer a suburb close to the sea on half an hour from downtown Athens, you better pick Glyfada or Vouliagmeni. Are you in Athens with children? Explore the
top things to do with kids
in Athens!
---
• What are the best areas in Athens for young travelers?
We would recommend Monastiraki: central, lively with great nightlife. If you know where to stay in Exarchia or Psirri, these could be suitable areas as well, but parts of these areas are not the safest at night.
---
• Where should I better not stay?
Hotels near Athens airport are far away from the city center. It takes about an hour or longer to arrive downtown and in the surroundings of the airport, there is nothing to do. We would not recommend parts of Omonia, Exarchia, and Psiri because of possible drug use and occasional political riots.
---
ATHENS NEIGHBORHOODS
---
1. PLAKA - ΠΛΑΚΑ
---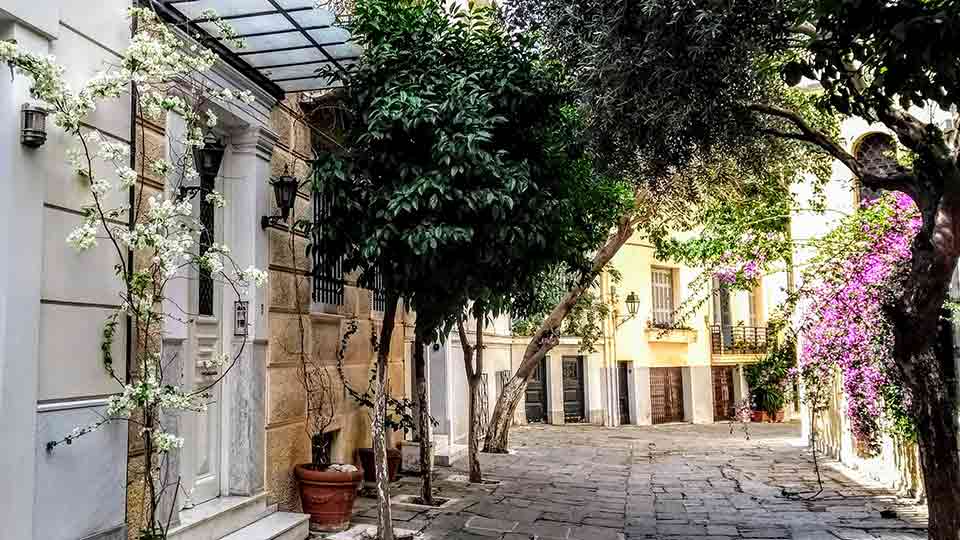 Photo: An Alley in Plaka
---
Plaka is the oldest neighborhood in Athens, built at the foot of the Acropolis. It's a
picturesque area
with colored houses, historic monuments,
souvenir shops
, and lots restaurants on the stairs of narrow streets. Many bars and restaurants have a rooftop where you can enjoy a wonderful view of the Acropolis. Plaka is thus a
must-see area
in Athens, and therefore lively and crowded.
---
Metro station
: Acropoli
---
2. KOUKAKI - ΚΟΥΚΑΚΙ
---
Koukaki, or
Acropolis area
, is the neighborhood right behind the Acropolis Museum. The last 15 years this district underwent a complete
metamorphose
. One of the borders of this area is the promenade Dionysiou Areopagitou. This boulevard is filled with street artists and is very popular to stroll in the late afternoon, having a view of the Acropolis at your side. The neighborhood has many new hotels, bars and restaurants but is
not too touristy
yet.
---
Metro station
: Acropoli
---
3. SYNTAGMA - ΣΥΝΤΑΓΜΑ
---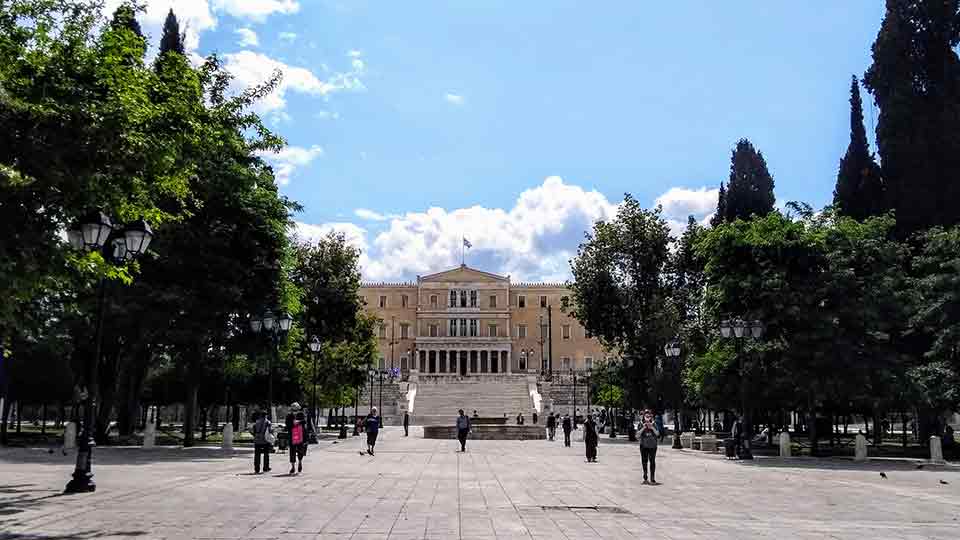 Photo: Syntagma Square
---
The largest public square of Athens is Syntagma. A buzzing area with lots of traffic, ministries, renowned hotels, and shops. Right on the square you find the
Parliament building
with the change of the guards every hour. Next to it you can escape the rush of the city in the National Garden. Because Syntagma is in the middle of downtown Athens, you are on walking distance from the
main attractions
and museums.
---
Metro station
: Syntagma
---
4. MONASTIRAKI - ΜΟΝΑΣΤΙΡΑΚΙ
---
"Monastery – aki" or Little Monastery is the central square of social Athens. This is the meeting place for (young) Athenians when they go for a drink with friends in downtown Athens. An
energetic square
surrounded by rooftop-, cocktail-, coffee-, and souvlaki bars. Monastiraki is most known for its
flea and antique market
where you can find new and secondhand goods.
---
Metro station
: Monastiraki
---
5. KOLONAKI - ΚΟΛΩΝΑΚΙ
---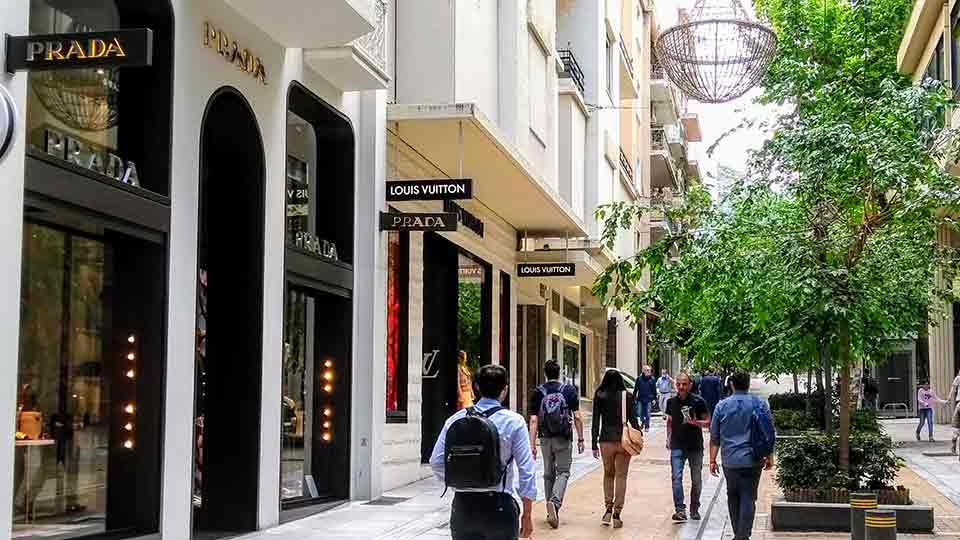 Photo: Shopping Street in Kolonaki
---
The neighborhood Kolonaki is built on the slopes of the highest hill in Athens: the
Lycabettus
. From the top of this hill, you have an astonishing view of Athens. Kolonaki is the area of
upper-class
downtown Athens, with luxurious shops, couture, embassies, international schools, boutique hotels, wide green lanes, women on high heels and men in suits. Here you have a latte macchiato with a croissant instead of a Greek coffee with a bougatsa.
---
Metro station
: Syntagma oder Evangelismos
---
6. THISSIO - ΘΗΣΕΙΟ
---
Thissio is a quiet, small, residential neighborhood, best known for its coffee bars and its large
pedestrian area
. The Apostolou Pavlou promenade is the place for an evening stroll and shop some handmade products or enjoy live music by street artists. In the middle of the pedestrian road you can enjoy a movie in the
open-air cinema
Cine Thision
. This boulevard leads eventually to
two green hills
: the Pnyx and Philopappos hill, which are excellent spots for walks or picnics.
---
Metro station
: Thissio
---
7. PIRAEUS - ΠΕΙΡΑΙΑΣ
---
Piraeus
is known as the
port of Athens
but it's a separate city. It's the area next to the sea with a cozy city beach and three harbors. The smallest one is
Mikrolimano
which has a vast variety of
fish and seafood restaurants
right next to the water. The second harbor is
Pasalimani
with a mix of fisher boats,
yachts
, shops and restaurants. And the last one is the actual port where ferryboats leave for the Greek islands, cruise ships berth, and cargo ships come into the city. A hotel near Piraeus port is ideal when your
ferry boat
leaves early in the morning. In Piraeus there is always a breeze and thus a bit cooler than downtown Athens.
---
Metro station
: Piraeus (direct connection from Athens)
---
8. GLYFADA and VOULIAGMENI - ΓΛΥΦΑΔΑ και ΒΟΥΛΙΑΓΜΕΝΗ
---
Glyfada and Vouliagmeni are
two suburbs
to the south of Athens along the
Athens Riviera
. Both are glamorous, green areas that combine boutique shops with upscale restaurants at the seaside. Glyfada is a small town itself and apart from the historical landmarks in downtown Athens, you can find everything else in this area. When you are looking for
luxurious relaxation
, you can pick one of the 5* beach resorts in Vouliagmeni. Both areas are about 15-20 km away from downtown Athens.
---
Direct tram connection from Syntagma square to Glyfada. No metro station (yet).
---