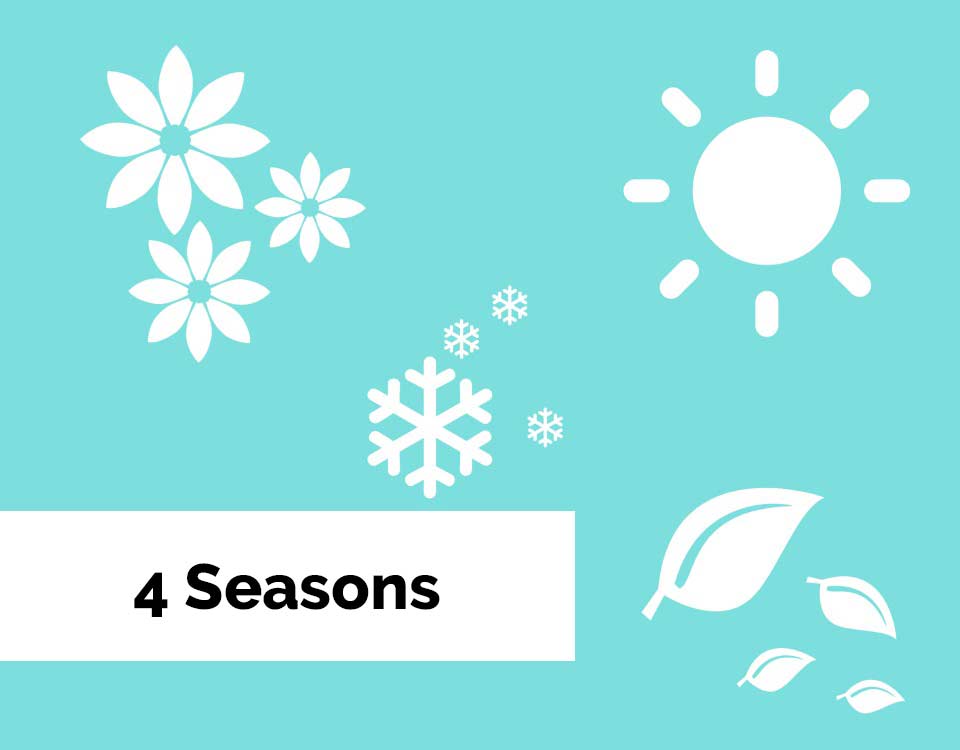 17/03/2021
---
Discover the charm of every season and plan the best time to go to Athens. When planning a city break, one of the first decisions to make is, "When should I plan my trip?" In this blog post, you'll learn about the weather, holidays, and festivals of each season. This way, you can choose the
perfect time
for your city break to Athens. Do you opt for summer with its blistering heat and outdoor events, or do you prefer the chilly winter with fewer crowds? No matter which season you choose, Athens is beautiful all year round!
---
Spring
---
WEATHER
---
Spring is the most
colorful
time of year in Athens.
Flowers
are blooming, the grass is green, and in some places around the city you can admire the extraordinary purple of the
Jacaranda tree.
Everything is blooming because temperatures are between 10-25 ˚C. Spring can be gently warm, but sometimes it can be whimsically cold. On a sunny day, you can enjoy the spring sunshine in a t-shirt and have a
picnic
in the park or on the beach!
---
Photo: Spring colors in Athens
---
HOLIDAYS
---
On
March 25
, Greece celebrates Independence Day. On this national holiday, there are parades with Greek flags and people eat the traditional Bakaliaro-Skordalia - fried cod with garlic sauce.
---
Greek
Orthodox Easter
is the most important celebration in Greece. Easter week is full of traditions from church masses, presents, red eggs, lamb, to fireworks!
---
FESTIVALS
---
Explore the most extravagant
architecture
of private and public buildings that open their door to everyone for free during
Open House Athens
.
---
Relax and enjoy fine
Jazz
sounds during the 7-day
Athens Technopolis Jazz Festival
.
---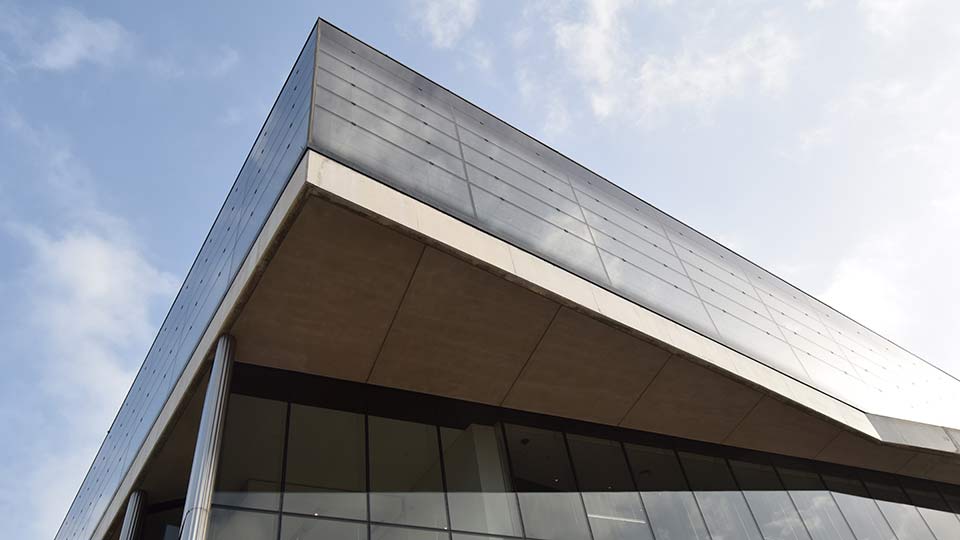 Photo: Wonderful architecture of the Acropolis Museum
---
MONUMENTS
---
Closed
---
25 March - Independence day
Greek Orthodox Easter Sunday
1 May - Labor Day
---
Free entrance
---
6 March - In memory of Melina Mercouri
18 April - International Monuments Day
18 May - International Museums Day
---
CITY BREAK
---
Spring is the ideal time for a city trip to Athens in terms of weather conditions and the beautiful colors of nature. This time of the year is perfect for
sightseeing
the many wonderful outdoor sites of the city as the temperatures are perfect, not too hot and not freezing cold. Since many cultural tourists choose this season to visit Athens, the city can be crowded at the end of spring.
---
Summer
---
WEATHER
---
Summer is hot with plenty of
sunshine
and temperatures between 25-35 ˚C. Some days are challenging even for heat lovers but luckily the city offers wonderful opportunities to cool off. Relief can be found in green parks, beautiful museums with air-condition, or great
beaches
on the Athens Riviera. At night, you can enjoy a cocktail on a
rooftop bar
, watch a movie in an
outdoor cinema
, or take in an evening theater performance under the stars.
---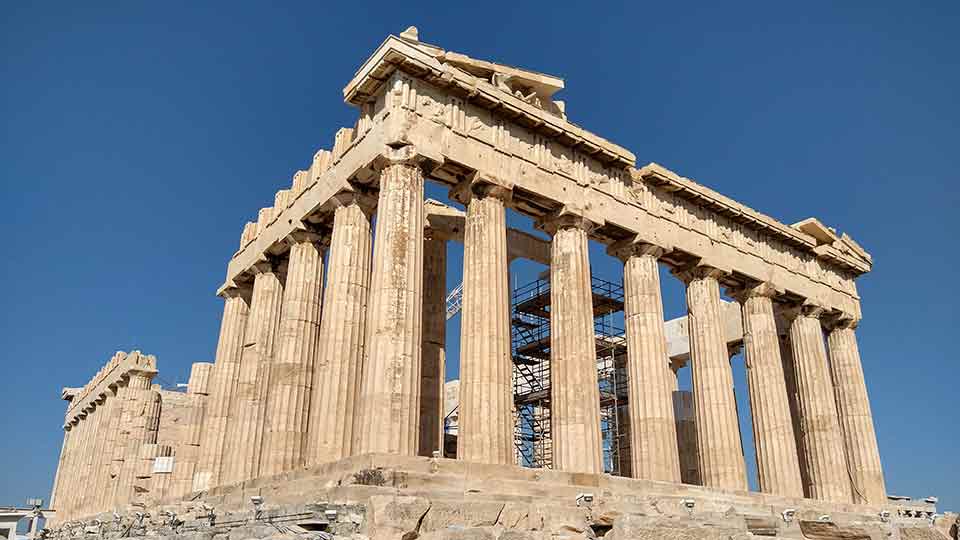 Photo: The Parthenon temple against a summer sky
---
HOLIDAYS
---
August 15
celebrates the Assumption of Mary. This religious feast is one of the most important in the Greek Orthodox church. Light a candle in one of the Byzantine churches and marvel at the shiny gold relics.
---
FESTIVALS
---
From June to September, the
Athens and Epidaurus Festival
organizes performances in ancient
theaters
. Experience an opera, theatre play, or concert by national and international artists in the Herodion or the
Ancient theater of Epidaurus
.
---
Once a year, in August, the
midsummer full moon
is magnificent. The silvery moonlight creates a unique atmosphere, especially when it hits ancient marbles. Many archaeological sites, like
Sounio
are open until midnight!
---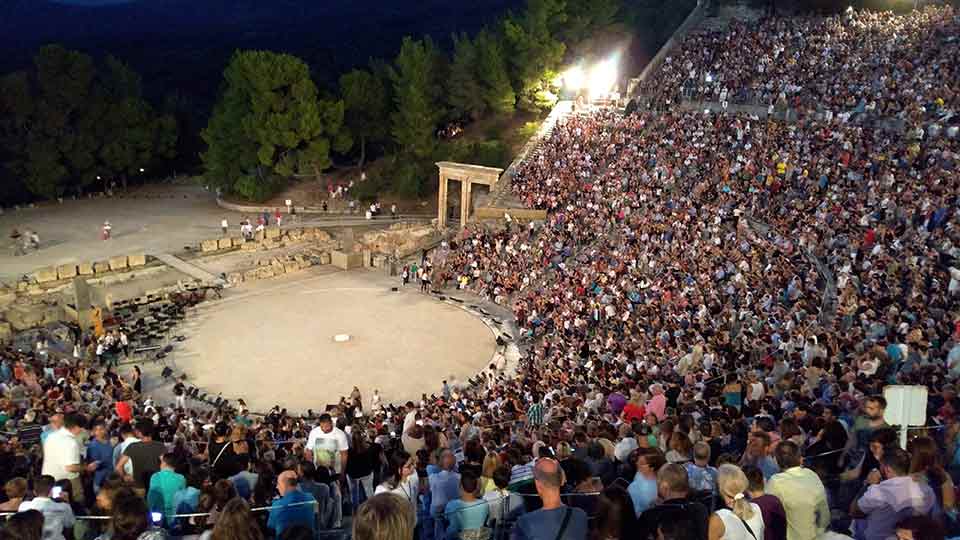 Photo: Epidaurus festival in summer
---
MONUMENTS
---
Closed
---
When temperatures rise
above 40°
Celsius, the Acropolis closes around noon and doesn't reopen until the afternoon.
---
CITY BREAK
---
A city trip in summer can ideally be combined with a
Greek island
. Enjoy the most iconic outdoor monuments of Athens (very) early in the morning before the crowds and schedule the air-conditioned museums for after lunch. If you choose summer for your city break to Athens, go with the flow and take it slow, enjoy your freddo for hours and don't run, it's too hot.
---
Fall
---
WEATHER
---
Fall in Athens is a gentle
extension of summer
. In early fall the days can feel like summer, with wonderful beach weather. The occasional rainfall indicates that summer is over, and fall came in.
Outdoor life
, however, continues with heaters in outdoor spaces for the
cooler nights
. Temperatures range between 10-25 ˚C.
---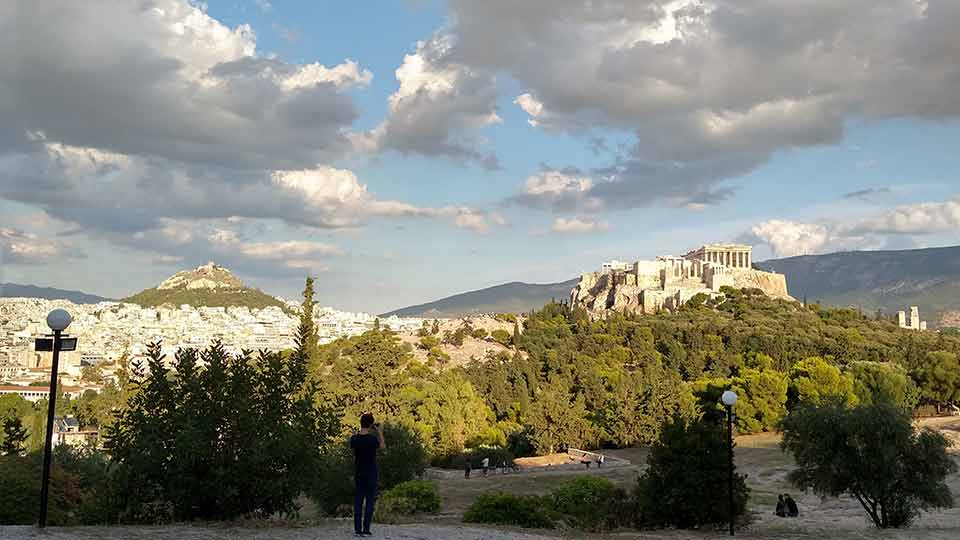 Photo: Dramatic sky in Athens
---
HOLIDAYS
---
October 28
is a national holiday when Greece celebrates that they said NO (OCHI in Greek) to the ultimatum set by Mussolini in 1940. This is celebrated with military and students parades with Greek flags.
---
FESTIVALS
---
Pick a
movie
from the wide range of films projected in one of the (outdoor) cinemas during the
Athens International Film Festival
in September/ October.
---
Everywhere in the world you can participate in a Marathon Race. The
Authentic Marathon
though, from
Marathon
to Athens, is organized in Attica every year in November.
---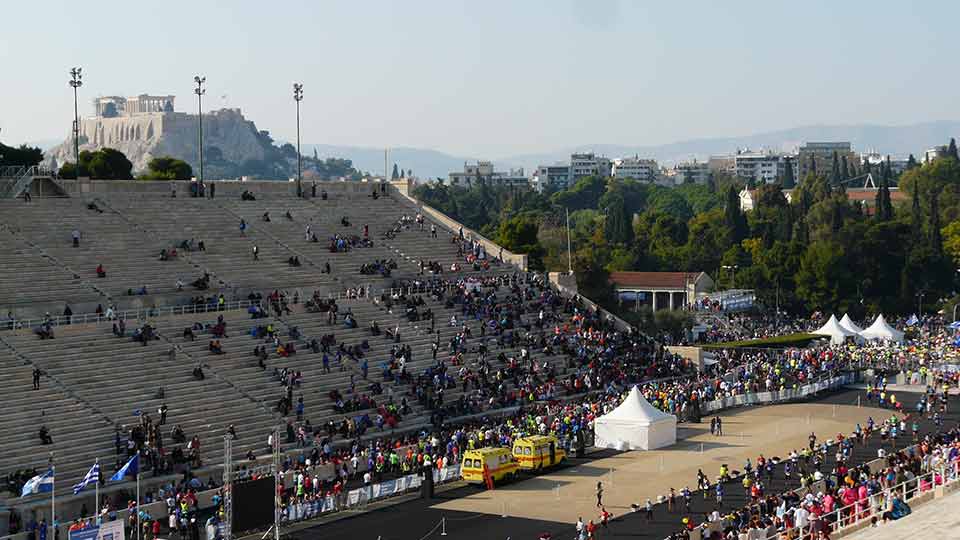 Photo: Finish line of the authentic Marathon race
---
MONUMENTS
---
Free entrance
---
Last weekend of September - European Heritage Days
28 October - OCHI Day
---
CITY BREAK
---
The gentle summer-like days and cooler nights in fall, make (early) fall a wonderful season for a
cultural
city trip to Athens. The summer heat left the city which makes it more bearable to walk around the city at noon. From November 1 reduced entrance fees to main archaeological sites and museums make it even more attractive to pack your city trip with as many iconic highlights of Athens as time allows!
---
Winter
---
WEATHER
---
In comparison with other European capitals, Athens has a
mild winter
with often blue sunny skies. However, some winter days can get wet and cold with rare
snowfall
in downtown Athens. Average temperatures range between 5-15 ˚C.
---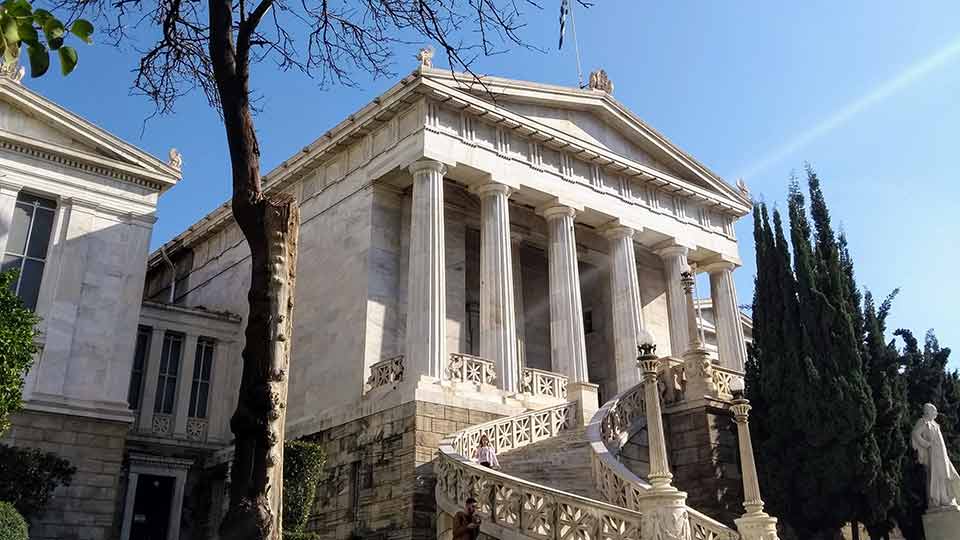 Photo: Old library of Athens in winter
---
HOLIDAYS
---
Tsiknopemti
, also called Fat Thursday, Smoky Thursday, or Smelly Thursday, is the day that Athens smells like barbeque. Greeks eat so much meat for the next coming 40 days, when it is, according to the Greek Orthodox Church, not allowed to eat meat. In case you want to try some grilled meat dishes, don't forget to make a reservation.
---
On
Clean Monday
parks, beaches and open spaces are filled with colorful kites. This day marks the start of Lent and many families have a meat-free picnic.
---
FESTIVALS
---
Carnival
in Greece is called Apokries. It's not celebrated with parades but there are costume parties where you can dress up in your favorite costume.
---
MONUMENTS
---
Closed
---
25 December - Christmas
26 December - Christmas
1 January - New Year's Day
---
Free entrance
---
Every first Sunday of the month between November - March
---
CITY BREAK
---
When you are looking for the non-touristic time of the year and you are not desperate for a swim in the sea, pick winter! Winter has mild temperatures, the city is calm, no queueing for Athens' highlights and lots of discounts on accommodation, monuments, and museums. When you are into snow, go
skiing
in one of the
winter sport resorts
which are only a couple of hours from Athens!
---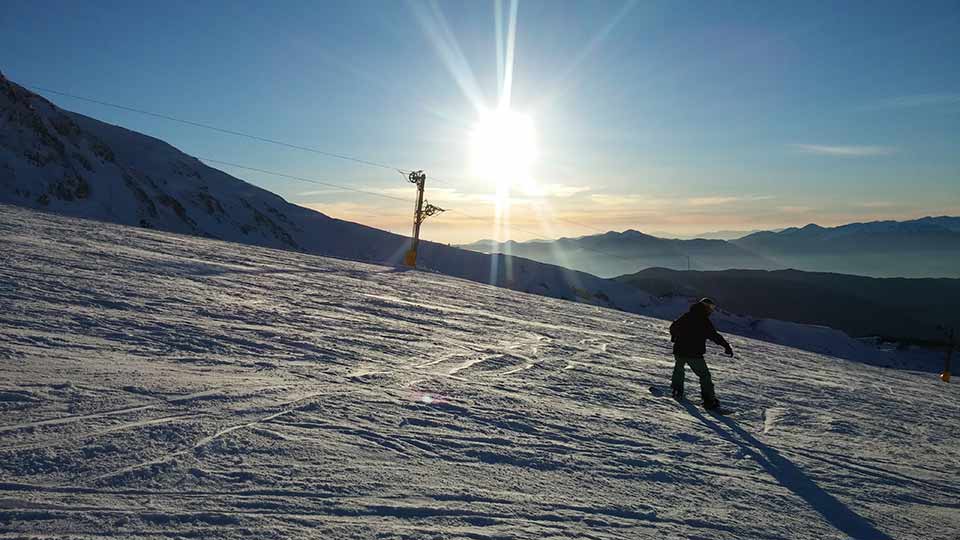 Photo: Winter sport resort Parnassos
---
Athens is gorgeous all year long, no matter what season you go! Have you chosen your dates yet? Check out our exciting
tours
of Athens!
---